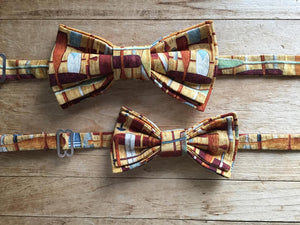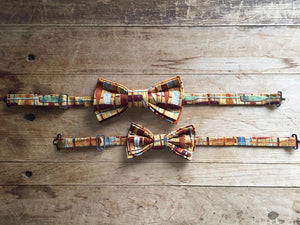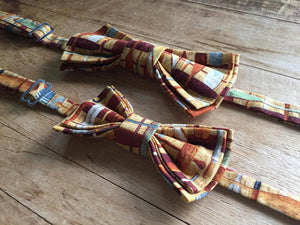 Father/Son Bow Tie Set ~ Gift Set ~ Oars, Boating
Regular price
Sale price
$83.00
---
"SIMPLY ME • GENTLEMEN ~ FATHER/SON BOW TIE GIFT SET"
• Simply Me • Gentlemen • Est. 2017 •
Do you want the perfect gift for Dad to gift him on Father's Day, or for his Birthday, or Just Because!?!?!?
Well...I have the perfect gift option for you. How about a coordinating Father and Son Bow Tie gift set.
The men in our lives deserve special gifts, and I know for myself, it is always hard on knowing what to get my husband. Once I discovered my husband truly enjoys sporting the Bow Ties I make, I thought it would be nice to have a matching Father/Son set.
Discovering my passion for bow ties happened through my husband. We were talking about my crafts, and all the options of different items I could make. We somehow came upon the topic of bow ties and ties. It was my husbands idea who encouraged me to try my hand at it. 
Little did I know, I would soon become obsessed with making them. They are incredibly fun to make, and I am constantly coming up with different fabric options, and how I can put my own twist on each one.
I have actually modified the original pattern a great deal. I tried a couple different things before settling on how I make them now.  
"SIMPLY ME • GENTLEMEN FATHER/SON BOW TIE SET"
Dressed up or dressed down is how you can wear my handmade bow ties for all the men in your life.
Be Dapper, Be Classy, Be a Gentleman is what my bow ties represent. So Wear them Confidently, and Wear them with Pride.  
*** Bow ties will never go out of style, but my goal is to have them integrated into menswear for every day wear. ***
"DESCRIPTION AND DETAILS"
Bold, Fun, and ready to take on the world with this oar print fabric. This goes under the category "Expression of Style". Let people see a little personal inside you, while still looking professional.  
These are a perfect set for the Father and Son outdoorsman; so show off the outdoors in you with this beautiful Father/Son set. They are perfect for the Spring, Summer, Fall and Winter months, and also make for wonderful Christmas and Father's Day gifts; as well as even a Wedding.
I chose this fabric because it is unique, yet still has a professional appearance at the same time. It is bold, makes a subtle statement, crisp, and clean. They can also be dressed up, or worn semi-casual for everyday wear.
The oar fabric is primarily orange ranging from light to a rich dark, with accents of blue, and green oars. The pattern is layer upon layer of he oars in the colors I just described.
Each bow tie has an adjustable neck band, so there is no need to have to figure out how to tie it.
"DIMENSIONS"
Standard Bow Tie Size
"MATERIALS"
I use one hundred percent premium cotton fabric, premium interfacing, premium thread, and metal clasps. I believe in quality over quantity and will always use the best materials possible. It truly makes a difference in look and feel.
*** PLEASE NOTE ***
PATTERN PLACEMENT VARIES ON EACH BOW TIE. THE PHOTO IS A REPRESENTATION OF WHAT YOU WILL BE GETTING. If you want to see the actual bow tie you will be receiving, please message me and I will send you a photo. THANK YOU for understanding that each bow tie has variations, and that these are handmade by Me -- with Love and Passion.
If you need items shipped sooner, please contact me. I will try to accommodate as best I can. 
~ Handmade and Handcrafted by Casandra Luz Quintero